Facebook is a channel that is changing all the time, which doesn't always make it easy for busy marketers to keep up with each and every small change.
Aside from the common powerful marketing tools like lookalike audiences, there are additional Facebook features that are less prevalent but can make a world of difference for the right campaign.
Facebook Tools
In my opinion, Facebook has a lot of great tools for advertisers that fly under the radar.
Many of these make advertising on Facebook easier, but you may not know about several of them.
Let's hop in.
1. Third-Party Tag Integration
Setting up the Facebook pixel used to entail several steps, especially when it came to shopping carts and event tracking.
Back in 2017, Facebook made this process much easier with the integration tool that can be found within Business Manager.
Advertisers using Google Tag Manager, WooCommerce, Shopify, Magento, or BigCommerce can implement the Facebook pixel without touching the code to their website. Click on the link for each platform to see step-by-step instructions.
Get started by selecting Events Manager in the Facebook navigation sidebar.
In the left navigation, you'll see a green plus sign button.
When you hover over it, it will pop out options to connect data sources, edit data sources and add custom conversions.
Click Connect Data Sources.
Select the type of data source you want. (If you already have a conversion pixel created, the Web option will be grayed out.)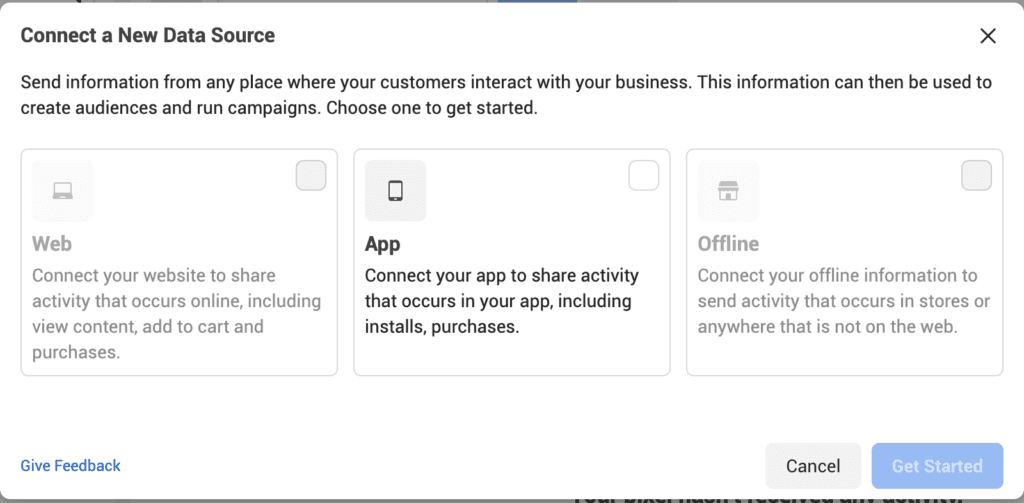 Click Get Started and follow the instructions to finish the process.
2. Pixel Helper
Before getting started in any channel, it's important to not only set up your conversion pixel but also confirm it is firing properly.
Facebook's Chrome extension allows advertisers to double-check implementation, troubleshoot their pixel, and learn how to improve performance before launching campaigns.
Check out this list of error messages once you have downloaded the tool.
3. Creative Hub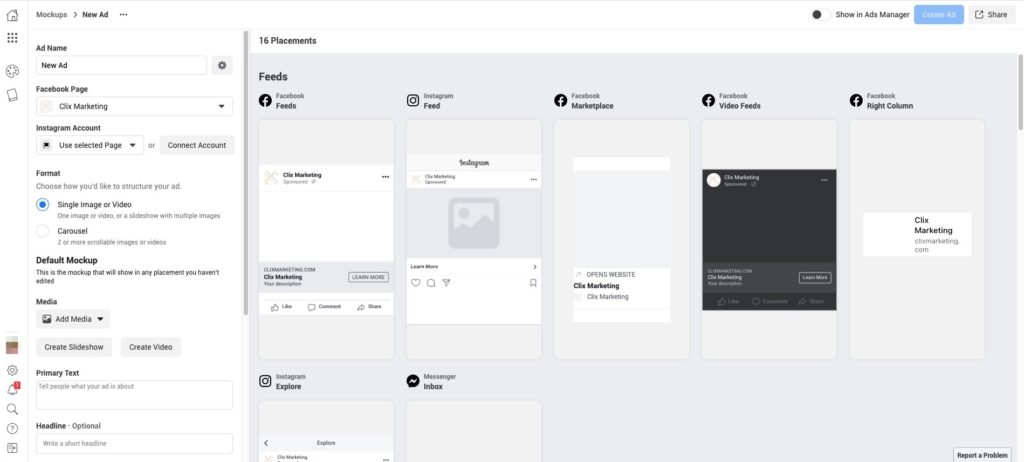 Creative Hub is an ad mockup tool that allows users to test different ad types, placements, and ad elements. Single image or video and carousel ads can be tested.
These mockups can be saved for later reference.
Slideshow, video, and interactive ads can also be tested here.
This tool can be very useful when pitching new ad types to clients.
You can find Creative Hub in the Facebook navigation sidebar by clicking the "dot" button and scrolling down to Advertise > Creative Hub.
4. Facebook Analytics
Click here to view original web page at 12 Facebook Ads Features Every Marketer Should Know