Whether your marketing position requires you to send invoices to clients, track website analytics, or create budget and expense reports, you've undoubtedly found yourself working with spreadsheets in some form.
And if you're anything like me, those spreadsheets can feel frustratingly tedious when you're under a time crunch.
Fortunately, Google Sheets offers 26 pre-built templates, allowing you to create reports and analyze data in spreadsheets faster and more effectively.
Best of all, Google Sheets templates cater to specific categories. For instance, if you click the Paid Traffic Report template, your spreadsheet is already organized into Overview, 12-month Trends, and Medium Breakdown categories. It knows what you need and offers it without any manual input.
Here, we'll dive into 20 of the best free Google Sheets templates for any marketing role in 2021, so you can create better spreadsheets while saving valuable time to focus on more important things — like making sense of the data itself.
Before we properly delve into the templates, let's see why Google Sheets is an excellent choice for free templates and how you can find these templates.
Why use Google Sheets?
Google Sheets is part of Google's G Suite of software that has over 6 million users. Here are some reasons why you should consider using it too:
1. It's free.
Even if you don't pay for Google's G Suite, you can still use Google Sheets and its templates for free.
2. It's easy to use.
You don't need to pick up a manual or guide before you can start using and enjoying the features of Google Sheets and its free templates.
Since Google Sheets is cloud-based, you can work on them wherever you are or on whatever device you own as long as you have an internet connection and can access the Google account where the Google Sheet is.
3. It encourages collaboration.
Unlike with Microsoft tools, it's easier to collaborate with Google tools like Docs and Sheets.
With a few button clicks, you can share a template or Google Sheet with other members of your team wherever they might be in the world. You can also leave comments as you and your teammates work on the same sheet in real-time.
You can also download your sheets or templates if you like.
How to Find Templates In Google Sheets
There are two common ways you can find and use free Google Sheets templates.
1. Google's In-Built Template Gallery
On your browser, go to Google Sheets. Click "Template Gallery" at the top right. Explore the templates to find the right one for you.

You'll find different templates for your personal, work, and project management needs. Here's an example of what the Personal template library looks like: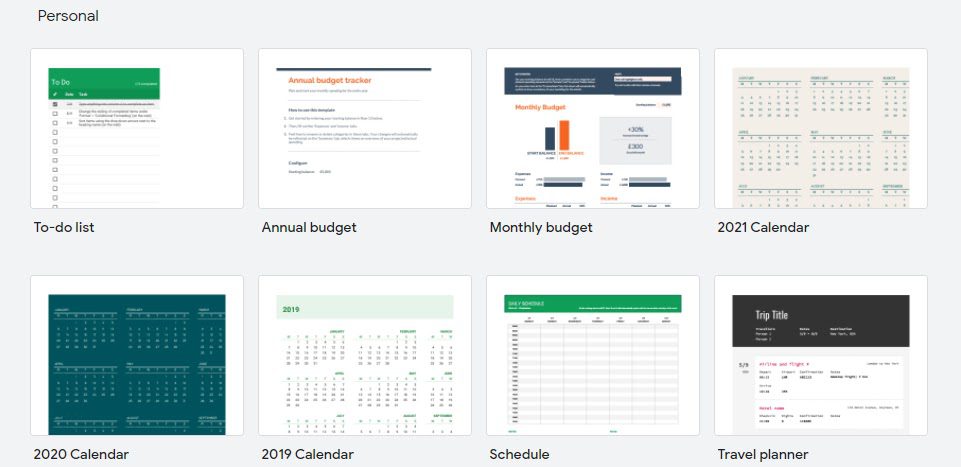 2. Add-Ons
Another way to find free templates in Google Sheets is to download and install the Vertex42 add-on. Here's how:
Click here to view original web page at 20 of the Best Free Google Sheets Templates for 2021